Bound by blood and a mutual love of American roots music, The Bacon Brothers have spent the past quarter-century in a creative whirl, funneling their shared DNA into a genre-bending sound. They call that sound "Forosoco" — a blend of folk, rock, soul, and country influences, delivered by two songwriters who were born to collaborate — and it's taken the siblings across the world, from shows in Japan to performances at American landmarks like Carnegie Hall and the Grand Ole Opry.
The Bacon Brothers turn a new page with their eleventh release, Erato, whose five songs showcase the duo at their diverse peak. It's an EP of dynamic contrasts: quiet moments and big payoffs, organic instrumentation and electronic textures, self-penned songs and high-profile collaborations. For Michael and Kevin Bacon, it's also the continuation of a story that began long ago in Philadelphia, where the two siblings were raised on a soundtrack of 1970s singer/songwriters, Philly soul singers, and classic rock bands.
"We're still exploring the sound we began making 25 years ago; we've just gotten a lot better at it," says Michael, whose success as an Emmy-winning composer mirrors his brother's own accolades as an A-list Hollywood actor. "Music is a life's work. It's a universe of things yet to know. It's exciting to be doing stuff we couldn't have done 20 years ago — to know that we've come so far, yet still have so much left in the tank."
On Erato's title track, the brothers appeal directly to the goddess of romantic poetry for inspiration. "Send me lightning in a bottle, Erato," they sing, their voices stacked together in harmony, their melodies flanked by layers of jangling guitar and folk-pop instrumentation. Unfolding like a summoning of the muse herself, it's one of countless highlights on a record that also makes room for the stripped-back soul of "Dark Chocolate," the atmospheric acoustics of "Karaoke Town," and the summery island-pop of "Let Me Happen."
"We're a songwriting band, and the songs lead the way," Kevin explains. "We're not beholden to a specific sound. We just write the songs and let them point us in the right direction. That's how we've done it since the very beginning."
This time around, The Bacon Brothers' songs point the duo toward unexplored territory. "Let Me Happen" grew out of a piece of unused music Michael had originally composed for a television show two decades earlier. "Michael has another musical life as a composer," Kevin notes, "and turning one of his instrumental compositions into a lyrical song is not something we've ever done before." Likewise, "In Memory (Of When I Cared)" finds the siblings teaming up with songwriting legend Desmond Child for a track that splits the difference between minor-key rock & roll and modern-day pop. "Desmond has a gift for writing magnetic songs that people get trapped inside of," Michael says of Child, a Songwriters Hall of Fame icon whose songwriting credits include Bon Jovi's "Livin' on a Prayer," Aerosmith's "Crazy," and Joan Jett's "I Hate Myself For Loving You." Working with a co-writer was a rare experience for the Bacons, whose previous 10 albums were almost exclusively written by Kevin and Michael. In Desmond Child, they found more than just a collaborator — they found validation in their strengths as prolific craftsmen, too.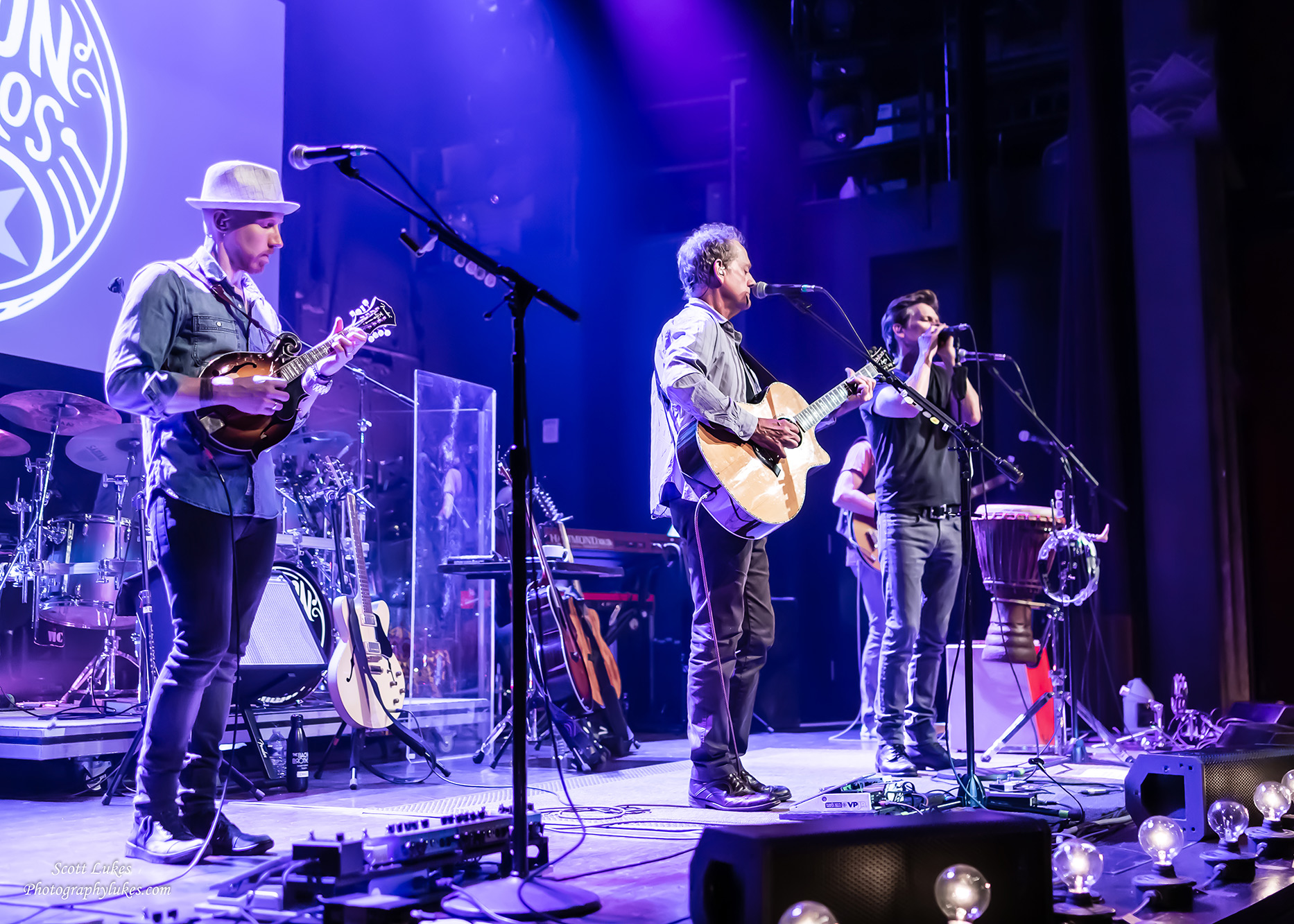 Another unexpected collaborator was Kevin's son, Travis Bacon, who produces the track "Karaoke Town." "I wrote it on acoustic guitar," Kevin remembers, "but I also knew that I could support the song's simplicity with a bigger, darker, more electronic arrangement, which is right in my son's wheelhouse."
With its balance of warm acoustics and digital flourishes, "Karaoke Town" represents a rare collaboration between father and son, proof that the apple doesn't fall far from the family tree.
Erato was recorded in various cities across the country, from producer Joe Nicolo's studio in Pennsylvania to Travis Bacon's studio in Los Angeles. Two songs were finished in Atlanta, their recording sessions sandwiched between shoots for one of Kevin's film projects. From his home studio in New York, Michael added cello and autoharp to several other tracks. Members of The Bacon Brothers' longtime road band appear on the record's title track, while a handful of first-time collaborators contribute to other songs, turning Erato into one of the band's most diverse records yet.
"We're always trying to break out of our specific habits and try something new," Kevin says. "We're two songwriters who have a lot of different influences, and we've learned to embrace that reality. As long as it comes from us, it sounds like us."
"If you're an athlete or a dancer, you usually have to launch a new career by the time you're 40," Michael adds. "We're lucky. We're still moving forward and getting better, and that's where we like to be."
The family that picks together sticks together. With Erato, Michael and Kevin Bacon — brothers, songwriters, frontmen, and multi-instrumentalists — prove their staying power once again.